Wisconsin AROC New Glarus Hillclimb!

Gallery of Images from 2015 Event

(Provided by Dennis Sbertolli)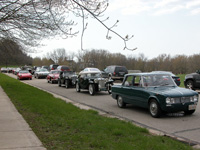 May 7

Join us on a trip to Wisconsin, driving great roads with other Alfa enthusiasts. It's a fun run event for participants, and a rolling car show for spectators.


You can choose to do the whole weekend, or just pick up part of it, according to your own schedule.

FRIDAY
Check-in at Chalet Landhaus - Noon to 9:00 p.m.

Early Tech Check - 5:00 to 7:00 p.m.

Bar Racing and Dinner - Anytime after 4:00 p.m.

Dinner will be served until 10 p.m. Friday
SATURDAY
Breakfast and other early morning activities - 6:30 to 8:00 a.m.

Late registration - and tech check - 7:30 to 9:00 a.m.

Drivers' meeting - Mandatory 9:15 a.m.

Orientation runs - 9:30 to 10:00 a.m.

Runs at speed - 10:00 a.m. to 1:00 p.m.

Lunch, restaurant of choice - 1:00 p.m.

President's reception, Chalet Landhaus - 6:00 to 7:00 p.m.

Dinner, entertainment** and dancing - New Glarus Hotel - 7:00 p.m. to?
** A special program of traditional Swiss singing

Last year's agenda
.