CAROC Picnic and Concours
Sunday August 13th at Barbara Key Park, Lake in the Hills!

by Barb Carroll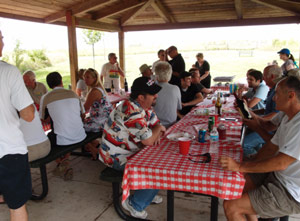 Our ever popular CAROC picnic will take place on Sunday, August 14th at Barbara Key Park in Lake in the Hills.
Affordable $10 per individual.
If you can help set up arrive around 11am.
Come in the morning and enjoy the day with your friends. This year lunch will consist of Italian Beef, Sausage, Mostaccioli and Ceasar salad served about 1:00 with a $10 per person cost. Non-Alcoholic beverages and water will be provided. BYOB & BYOA (b y o Alfa).

Barbara Key Park is located at 9191 Pyott Rd. in Lake in the Hills. From Rt. 62 (Algonquin Rd) and Rt. 31, take Algonquin Rd west about a mile to Pyott Rd. Turn Right on Pyott and the park will be about 1.5 miles on the left. Drive to the back of the park to find us at the furthest picnic shelter.

If you plan to come (and why wouldn't you, with good food, fine cars and great company in a beautiful location!), please RSVP to Barb:
Barb Carroll: (815) 675-2309 or email
alfalover53@gmail.com
The park includes basketball and volleyball courts, a playground for the kids and offers walks around the lake through an interesting natural glen area. We have the shelter from sunrise to sunset so bring the whole family for a great day out! Food will be served starting at 1 PM.

Pique-nique!


The forecast for the day of the picnic is sunny and 78 - I just know it! Perfect for a drive through the countryside to break bread and barbque with fellow Alfisti and Alfista. Bring some adult beverages, if you imbibe, your Alfa, and a buddy. This is where you get your dues back!